Adapt to Survive
There's no reason for operators to stick with legacy platforms as migrations to more open and flexible iterations can now happen quickly with no disruption to business continuity, writes Steven Valentine, Director of Interactive.
Read about it in iGaming Business magazine, issue 116, May/June 2019.
Gaming operators with existing platforms, or indeed new entrants coming into the market, are faced with a multitude of business questions. Typically, these include "how quickly can we have a go-to-market solution or undertake further integration of products?" or, if changing platform providers, "how fast can we migrate?"
These questions are complicated by today's jurisdictional requirements and the complex regulatory technical frameworks of the platform. This means a considerable responsibility is put on the platform provider to ensure its software is compliant with local licensing regulations. Furthermore, the platform needs to ensure it meets current social responsible gambling assertions, is scalable, and also that it is adaptable to local marketing requirements of the operators' brand strategy.
BRINGING RETAIL AND ONLINE TOGETHER
As a business, we espouse the need for an inclusive business and development solutions approach with our clients. Comtrade Gaming's iCore platform allows for omni-channel delivery that seamlessly integrates retail and online operations. From a single back office tool, iCore's platform capabilities deliver a proven agile market strategy that facilitates scalability for the highest player volumes and customisation functionality.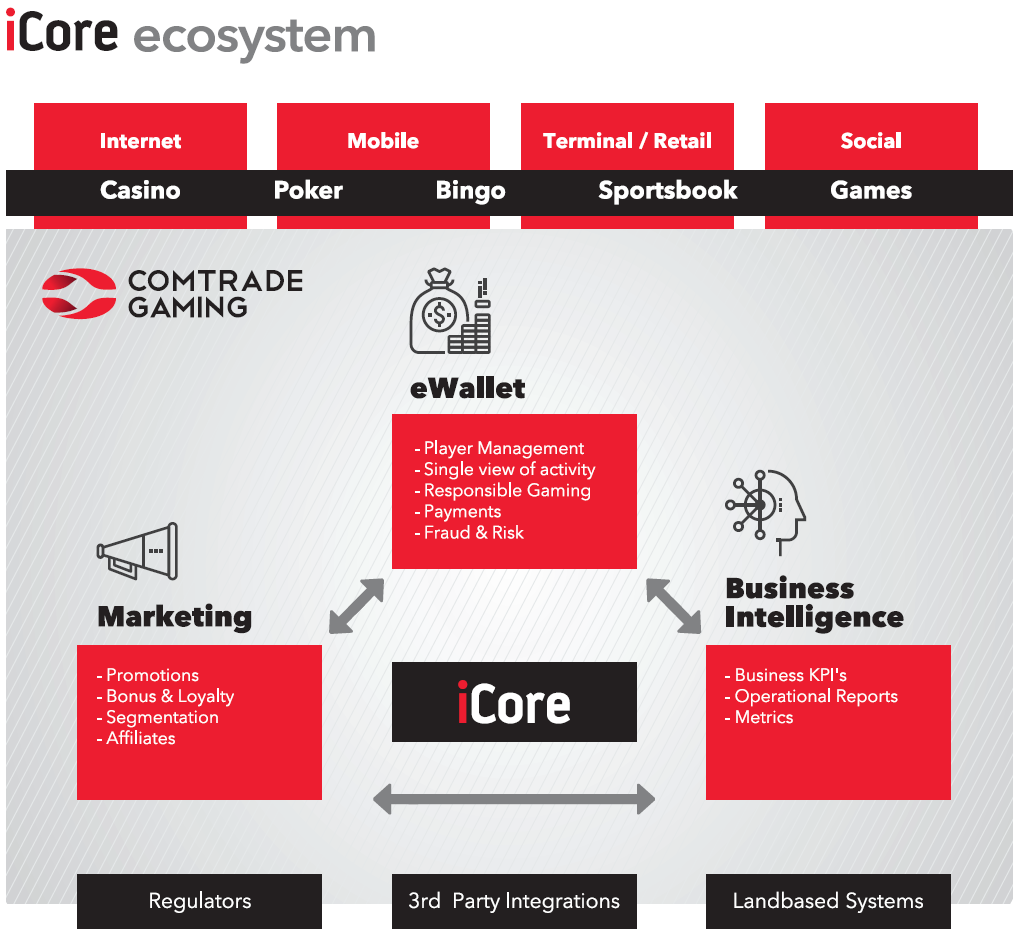 Comtrade is an open platform and one in which our business doesn't have any lock-in to a particular vendor. This approach allows our teams to meet those ongoing operational business requirements of inclusive incremental changes and requests needed by our operator clients – no matter how demanding they may be.
MIGRATING TO A BETTER PLATFORM
If you are an existing operator looking to switch platform providers, you know that time is money. The good news is our business teams can deploy migrations from a legacy system to a new one in a much quicker timeframe – without any detrimental effects on existing operations.
A perfect example of this was our recent success with the tier one operator Superbet, one of the many client migrations of which we are particularly proud. Sacha Dragic, CEO and founder of Superbet, was similarly impressed. "Comtrade made a big promise on a very aggressive migration deadline, and we have been very impressed with their commitment to delivering it on time," he said.
The online gaming industry is still in its relative infancy, but it's old enough to go through one or even two technology upgrade cycles, depending on the operator's foundation year. There are many horror stories out there detailing reverse effects of migrations that were supposed to improve platform capabilities but have instead had an adverse impact on operators' businesses and caused significant player churn. Not so at Comtrade. We are proud of our past platform upgrades here, all of which immediately improved our customers' operational KPIs.