In the omni-channel world of gaming, the mobile casino has become a standard. To retain the players, an online casino should be able to provide a high-quality mobile games.
Our Products
Mobile Blackjack
Mobile Classic Roulette
Mobile Baccarat
Mobile Video Pokers
HTML5 Mobile Games
HTML5 mobile games are an alternative to native apps and have become popular due to country regulations and App Store constraints. Comtrade Gaming's HTML5 Framework supports modern mobile operating systems such as iOS and Android.
Comtrade Gaming's HTML5 Framework is used for popular mobile casino table games such as Roulette, Blackjack and Baccarat, single and multi-hand video pokers and also slot machine games with multiple bonus features.
The games offer players a similar functionality to their desktop counterparts and are optimized for smaller screens and touch interaction.
Parity
Players can either play the games in a demo mode or for real money using their existing online accounts so they are able to enjoy these games on the go.
The mobile casino games run off the Comtrade Gaming's Remote Game Server platform which enables players to play the same content either on a desktop as high quality Flash games or on a mobile or tablet device using the Comtrade Gaming's HTML5 Framework.
Comtrade Gaming can integrate the games with different operators in order to run with their underlying online gambling platforms. The games can be customized for a more integrated look and feel.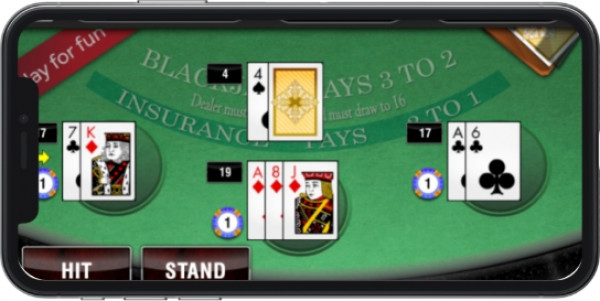 Mobile Blackjack & Mobile Multi-Hand Blackjack
Blackjack is the most widely played casino game in the world and one of the world's most popular games among professional gamblers and amateur players.
The game has a lot of attributes that help make it a hit among both novice and experienced gamers. It is a classic game of 21. But this is not all. On each position, the player can make a split or double down (according to the game rules).
Comtrade offers 2 variants of the game, Mobile Blackjack, which is a single hand variant and Mobile Multi-hand Blackjack, which offers the player to play on up to 3 positions.
The game includes state-of-the-art animations of cards and chips, accompanied by attractive sounds.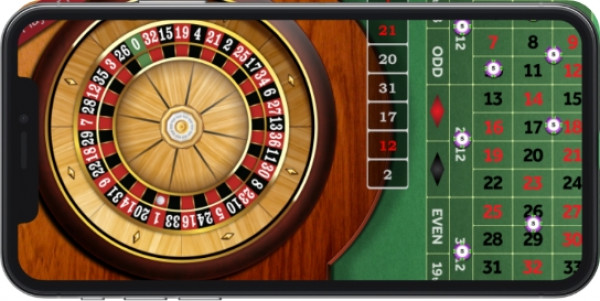 Mobile Classic Roulette
Roulette is still one of the most popular casino games today. The demand for roulette is so great that there is practically no online casino without online roulette and many also offer a mobile version to their players.
Our roulette is a classical single-zero roulette. It offers an excellent payback to the players and an easy to use user interface optimized for phones and tablets. Device detection is done automatically so you always get the most suitable layout for your device.
The game includes state-of-the-art CSS3 animations of wheel and ball, accompanied by attractive human dealer result announcements and game sounds.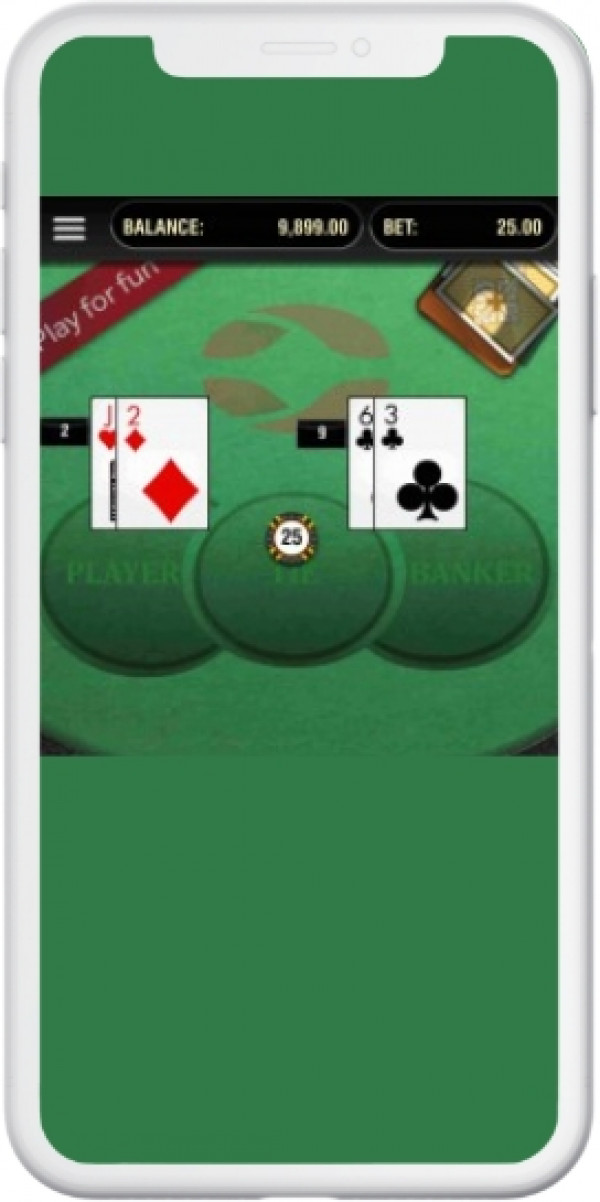 Mobile Baccarat
Baccarat is one of the oldest and most popular games in casinos all over the world. It is especially popular among high-rollers and Asian gamblers.
Part of what makes Baccarat a major game is that it's so simple. In this classic casino game, where the player and the banker are each dealt a hand of cards, the goal is to reach a card count total that is closest to 9.
The player's decision is set to choosing who will win, the player or the banker, or bet that both hands tie. From there on it's in the dealer's hands and the player collects or pays off once it's over.
Video Pokers
Today video poker enjoys a prominent place in all major online casinos. Video poker combines skill with luck, providing an exciting combination of challenge and surprise. This gives the player a more interactive experience which many find entertaining.
Comtrade Gaming currently offers four video pokers, starting with a simple one hand Mobile Jacks or Better and continuing with multi-hand mobile variants of Deuces Wild, Double Double Bonus Poker, Aces & Faces and Joker Poker. All include advanced graphics, fluid animations and audio.
Multi-hand video pokers are for the serious players. They can play up to 10 hands simultaneously even on their mobile phones and tablets.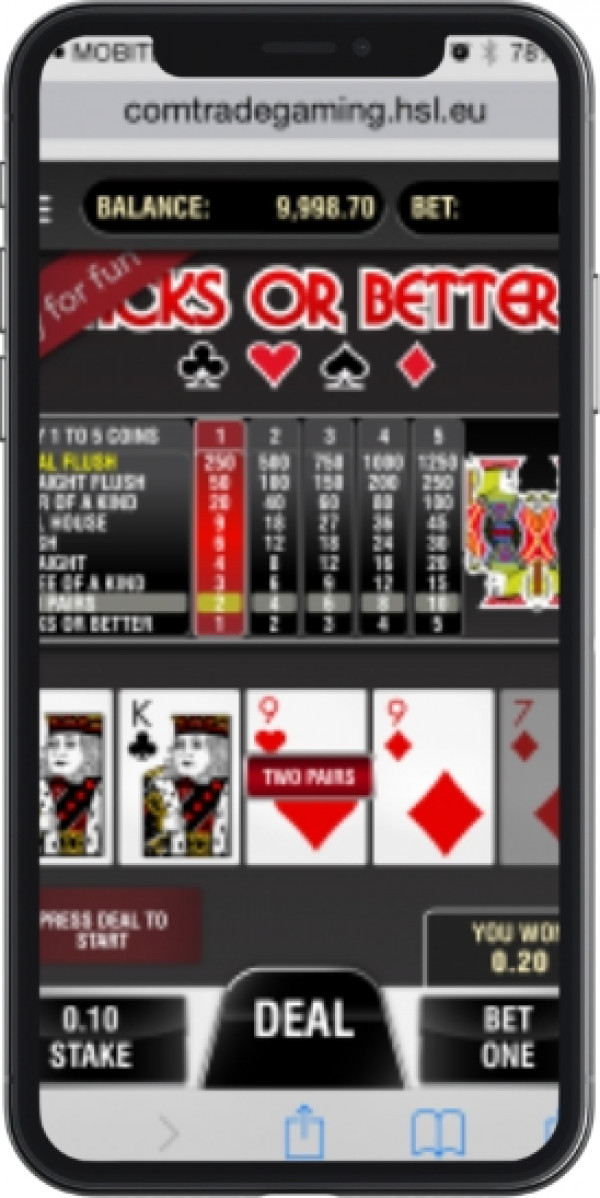 Mobile Jacks Or Better
Jacks or Better, sometimes simply called Draw Poker, is the most common variation of video poker. Payoffs begin at a pair of jacks. The game includes state-of-the-art CSS3 animations of cards accompanied by attractive game sounds.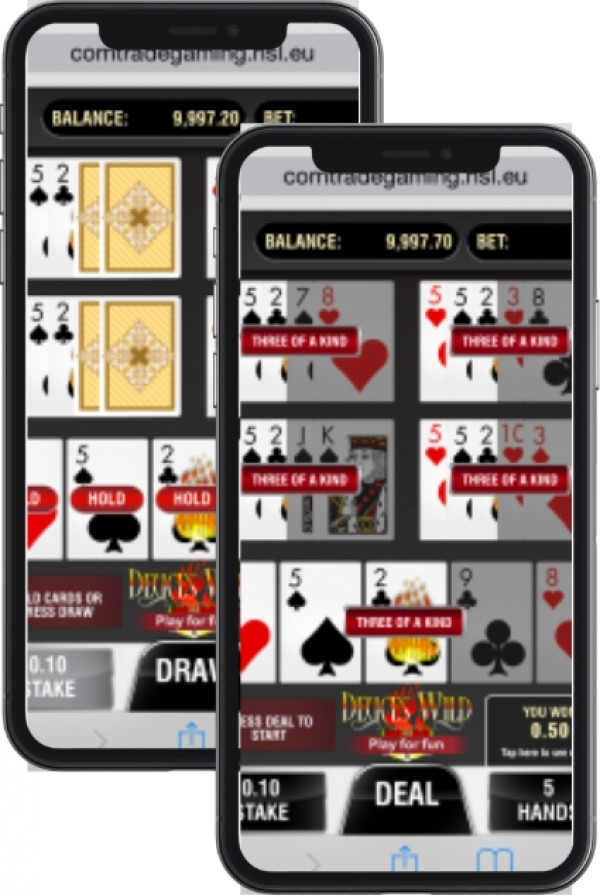 Mobile Deuces Wild
Deuces Wild is a multi-hand variant of video poker. The objective of the game is to get the best-paying hand. Payoffs begin at a three of a kind.
There are four 2?s in a standard deck of 52 cards per hand. These four deuces are wild and can be used to substitute any other card in order to complete a poker hand.