iGaming Platform
iGaming Platform is the central piece of every online gaming operation. Within the industry people use different terms like online gaming platform or player account management (PAM). Certain platforms support also elements of retail or land-based operation and are then referred to as omni channel platforms. But they all serve the same main purpose.
What is iGaming Platform?
Manage Player Accounts
Control their funds
Integrate and offer gaming products
What are the differences between various platforms?
Originally iGaming platforms were a byproduct of online casino, sportsbook or poker and were tightly integrated with these products. Since operators wanted more variety – especially on online casino side – multiple external game servers and other products would have to be integrated. These integrations are done with two basic concepts:
Seamless
All player funds are managed centrally and remote game server makes money transactions (bet/win) for every game.
Remote wallet
Players move their funds between multiple wallets and can play games of certain game vendor once they transferred their funds into their wallet. When they finish playing they have to manually transfer funds back.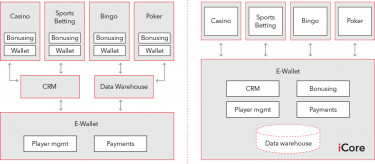 Modern platforms would typically integrate all external systems seamlessly which brings the following benefits:
player funds are all managed in one central place
operators can run loyalty programs and bonusing in real time, since all player bets are processed within one system
360 view of the player: all player related information in collected in a single system in real time
Drawbacks of that approach are
Higher load: since every bet transaction is processed by iGaming platform (instead of just remote wallet transfers) seamless integrations require more capable systems in terms of transaction
Special/unique player awarding approaches: certain game vendors invented special free spins or other player bonuses that only work within their remote wallet. Such functionality might not be available via seamless integration
Additional iGaming platform functionality
Regulatory requirements
Depending on regulation, which is typically specific to every jurisdiction, iGaming platforms would typically implement regulatory requirements in the area of responsible gaming (managing player limits and self-exclusions), anti-money laundering and other regulatory reporting for the purpose of tax collection.
CRM
Player acquisition and retention are key business processes for every gaming operator. Key tool for player development is bonusing, combined with affiliate and loyalty programs. Modern iGaming platforms would empower operators with advanced real-time automation based of business intelligence or even artificial intelligence.