Meet Sanja, our database administrator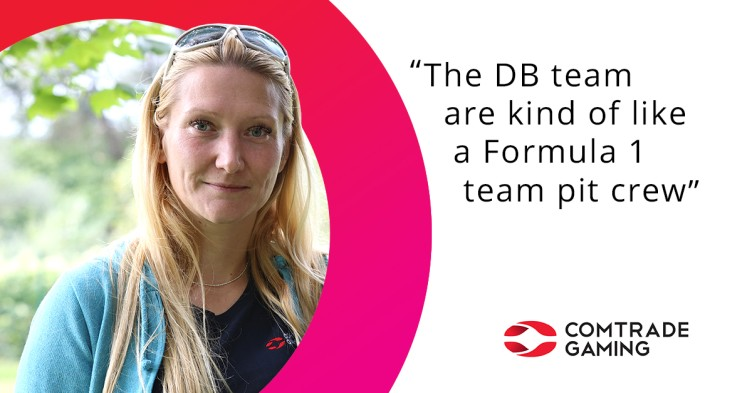 Meet Sanja Božič who joined us almost two years ago. She is a database administrator and gives an insight into her role and what it is like to work in the international gambling industry.
You have been with Comtrade Gaming for almost two years now. You are part of our database administration team. How have these two years been? 
They have really passed so quickly! Sometimes there is still a feeling of being lost because it is such a big system. Our company provides software for some of the biggest players in the sports betting and casino industry. It is not a rigid system and you kind of have to breathe with it. I have a feeling that there will be no shortage of opportunities to learn here.
What are the most challenging parts of your role?
There is a huge amount of responsibility. Most of our clients are very large and our software is the engine room of their business, with the database being one of the most important components, our clients completely rely on our software to run their entire business.
The databases for our clients at peak load can be processing up to 5000 bets per second! With numbers this big if there are any DB discrepancies things can have huge financial consequences. It also has to be running 24/7! The DB team are kind of like a Formula 1 team pit crew, we are always making tweaks to improve performance, only for us the race never ever stops!
What drew you to pursue a career in the IT industry, given that it wasn't your original field of work? Could you share how you transitioned into this field?
I always knew I wanted to work in the computer field, but my parents and family kept reminding me that it was a male-dominated field and that it might be too difficult for me. Consequently, I pursued Chemical Engineering, which unfortunately did not align with my interests and strength.
Rather than specializing in programming, you chose to immerse yourself in the field of database administration.
While I was pursuing my studies, I had the urge to gain some real-world experience and earn some extra income. Therefore, I took up a summer job in an IT department in a bank, hoping to explore the computer field. During this period, my boss introduced me to various aspects of the job, and that's when I discovered my love for SQL Servers. Until then, I had always envisioned my future in C# programming or similar domains.
What motivates you at work and what does success look like to you?
My motivation as a DBA comes from the never-ending challenges of improving system performance and the opportunity for continuous learning. Each situation is unique, and nobody has all the answers, so I'm forced to think outside the box and solve daily problems. Success, for me, is measured by the system's smooth and efficient performance, especially during high-pressure situations like big sports events or sudden increases in casino betting activity.
The recent football World Cup is one such example. Typically bets on certain matches are distributed fairly evenly over a day or a week. However, when a game suddenly goes into extra time or penalties, all those new bets get placed in a matter of seconds and minutes. We monitor the performance of the system in real-time. It's a bit like a digital seismometer for measuring earthquakes, but our tremors are based around big sports events or perhaps a new bonus for players that significantly increases casino betting activity. I've heard a statement from many of my colleagues that I'd like to borrow: "If you're excelling as a DBA, nobody really knows what you do."
Let's move on to lighter topics. Let's try a few short questions to get to know you better. 
·       Work from home or work in an office? For me, it's definitely the latter. I find that I have a better sense of structure in the office, which helps me find a balance between work tasks, breaks, meals, liquid intake, exercise, and socializing. However, the company is very flexible on this and some people choose to work from home a few days a week.
·       Light or dark background in IDE? Dark. It gives me a calming effect. 
·       Linux or Windows? If you had asked me five years ago, I would have said Linux without a doubt. But today, I find myself gravitating towards Windows. Who knows, tomorrow I might switch it up again.
·       Current favourite hobby? I have a few! Sudoku, hitting the gym, and playing Canasta are at the top of my list right now.
·       Favourite benefit in Comtrade?  There are so many great perks, but I would have to say the gym at the office, the various sports activities we can participate in, the abundance of chocolates, and the excellent celebration parties are some of my favorites. We also have a thing called "Happy Thursday", every week the company provides free drinks in our fun room and it's a great place to socialise with colleagues.